The P1AquaX tour descended upon Ft. Lauderdale Nov 16-18th for the season finale, Ft Lauderdale Grand Prix.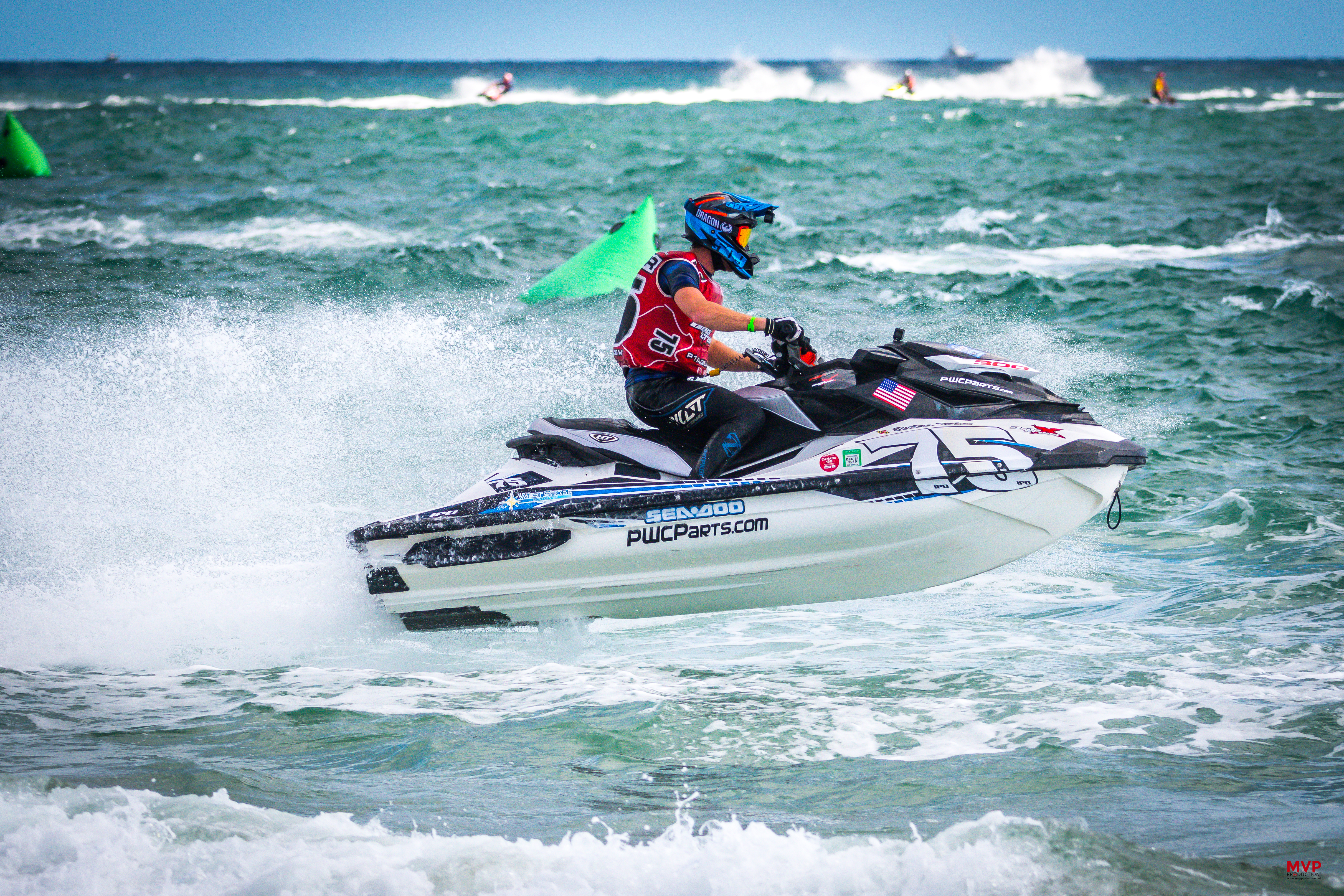 The race was promoted heavily to the local public, and the fans came out in force to cheer on the worlds top PWC riders. An estimated crowd of over 10,000 witnessed the P1 action between Friday-Sunday.
The PWCParts team was looking for redemption after a rough weekend in St. Cloud that resulted in 1 torn up race boat for the #91 team, and a DQ for the #75 camp. 





With over 35 entries in the Am 300 class from all over the world, including a number of Chinese riders who made the long trip from East Asia, it was sure to be a battle all weekend. The PWCParts team drew a 14th and 16th place starting positions before Moto 1. After getting back in traffic at the beginning of the race, Joe Johnson and Justin Taylor worked their way methodically through traffic to finish 6th and 7th when the flag dropped. The race was shortened slightly due to a loose buoy on the course. 





In Moto 2, Taylor started 7th and Johnson 6th. Taylor got off to a slow start in traffic, but didn't stay there long. It took him 20+ minutes of intense side by side action, but he eventually tracked down the leaders and dusted them off. Taylor would go on to WIN the race by a very large margin. 2nd Place Yaniel Fiallo was nearly a 1/2 lap behind at the checkers, though the announcers continued to state that he had won. Johnson and the famed #91 boat had an unfortunate mechanical failure 15 minutes in to the race and exited stage left.



Sunday morning would prove to be a repeat of Saturday afternoon. Taylor started first, and that's exactly where he finished. He smoked the entire fleet of competitors, no one even remotely close. His #75 PWCParts.com SeaDoo RXP-X 300 ran flawlessly, and he led the pack with ease. Joe Johnson on the #91 PWCParts.com Yamaha GP1800 had mechanical issues that lingered over from Saturday, which left him with a 13th place finish.



Sunday afternoons Moto 4 started similar to Moto 3, with Justin Taylor out front. However, a mechanical failure on lap 1 for Taylor left him a sitting duck. He watched as the competition flew by, and suffered his only DNF of the weekend.



Joe Johnson and the #91 Yamaha got the mechanical issues from Moto 2 & 3 squared away and got back to competitive form. Johnson started 9th, and worked his way up to 7th.



Taylor would end the weekend in 2nd place (or so he thought...), and Johnson would take home 10th.



In a strange turn of events, Taylor was notified 3 days after the race that Racer #62 George Holmquist had filed a formal protest with P1AquaX in regards to Taylor's SeaDoo, alleging he had illegal parts on his ski. This was a very strange protest, considering it would not effect Holmquist season standings at all. However, it would bump Holmquist in to 3rd for the weekend. After several days of deliberations, the P1 jury concluded Taylor was in violation of rule AX55 and would be disqualified for Moto 3. 



The PWCParts.com Watercraft Race Team had a season full of ups and downs, as is common in racing. They will regroup, train harder, and prepare for 2019 over the next few months. Barring any unforeseen circumstances, the PWCParts team intends to win 1st and 2nd place in the P1AquaX Am 300 Championship in 2019. Anything less would be a disappointment. Point blank. Just saying.